Tattler, Travel Edition
In your hands once again, you hold the piece of mail that you have been anticipating, if not dreading, for nearly a year. Yes, you failed to block the mail; you failed to destroy it before you opened it, and alas, your morbid curiosity has overcome your better judgment and you are again reading the annual rag.
The staff of The Tattler, always in pursuit of all possible scandal, muck, and embarrassment pertaining to the ever-accommodating Dietrich family, have this year been required to chase the shameless subjects around the country; either they have been fleeing their legacy in Lincoln, or are moved to push their antics out in an ever-widening swath. We are therefore pleased to present the 2007 Tattler, Travel Edition!
Department of Arcane Studies
Elizabeth Dietrich is now pursuing an advanced degree at the University of Washington in the study of Very Small Things. Her perennial fiancé, Stephen Crimmins, is studying Very Old Things at the same school. The Tattler has located the two of them and their intensely shy cat, Small, living at a moderately sized modern apartment in Seattle.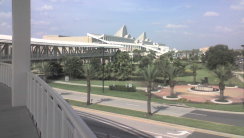 Man Learns Geek Language & Customs
Orlando, Florida
Geek Larry Dietrich was sent by his employer, LI-COR Biosciences, to a huge convention center in Orlando, Florida, to spend a week being further geekified under the auspices of a large software firm that we shall refer to as M$. Friends and loved ones have since noted his considerably improved conversational skills, as he frequently interjects amusing pithy phrases about the use of IVR APIs for SMBs and the influence of MIPs and the FSB on OOP. Wife Wanda gushed, "He's been the life of the party ever since he came back from that convention!"
The Tattler Online
Welcome to the online edition of The Tattler. Your online Tattler experience can be even more appalling than the paper edition, due to your ability to find expanded coverage of the topics, more pictures, and plenty of evidence to refute claims made herein, courtesy of the World Wide Web.
Not only that, you can also satiate your masochistic tendencies by opening previous editions of The Tattler. And if this is not bad enough, you can immerse yourself in more pictures than you can shake a stick at by visiting the complete Dietrich website at http://lincolndietrichs.org.
On the other hand, some readers find the paper edition more satisfying, due to its improved interaction with a match.
If you are not yet on the list to receive the paper edition, you can now remedy the situation (assuming we aren't too cheap to spring for a stamp for you) by clicking this link.