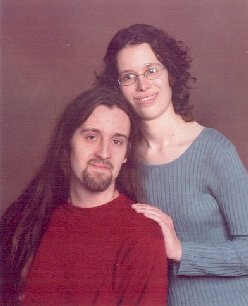 Elizabeth and Stephen
Couple Announces Engagement
Elizabeth Dietrich of Minneapolis, Minnesota, and Stephen Crimmins of Seattle, Washington, have announced their engagement. Reactions to the bombshell announcement included the raising of an eyebrow, a cough or two, a yawn, and multiple expressions of joyful congratulations. The wedding date is as yet undetermined. Elizabeth is currently employed as a biological researcher for the Veterans Administration, and plans to pursue graduate studies in microbiology at the University of Washington. Stephen is currently a graduate student in Medieval Studies at the University of Washington. The couple met while attending Carleton College in Northfield, Minnesota.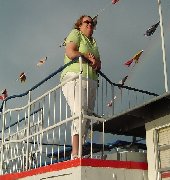 Woman Fancies Herself Seafarer
Wanda Dietrich, having long dreamt of living near "big scary water, but in reality finding herself in the landlocked state of Nebraska, has stood little chance of experiencing the nautical life. Such details do not deter a woman such as Wanda. Choosing the next best thing, a riverboat cruise on the Missouri, Dietrich boarded the River City Star, stood on the prow, and began to bark orders to the crew. "All hands up anchor! Heave round! Clear for running!" Mercifully, her cries were ignored by the real captain, who indeed knew a helm from a rudder.

An Even Tardier Tattler
"The dog ate it." "No one told me about the assignment." "I've been too busy." "Nothing happened this year." It's been one excuse after another, as the always tardy Tattler slips even further behind its normal schedule. "It's a New Year's missive," glibly proclaimed the intrepid editors of the annual gossip rag.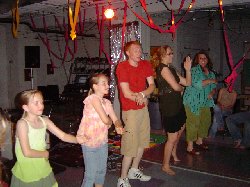 Dietrich, Tia, and Other Hoodlums
Lincoln High School Rids Itself of Riffraff
Presents Dietrich with "walking papers"
Sallie Dietrich of Lincoln Nebraska, was forcibly ejected from Lincoln High School before thousands of onlookers. She had been under scrutiny of the administration ever since an embarrassing encounter with the governor of Nebraska regarding an essay she had written. After the banishment ceremony, Dietrich, far from being properly abashed, threw a big party. Many of her delinquent acquaintances from Lincoln Fencing Club attended the party, and even her Tia abandoned all pretense of responsibility and respectability and was seen to be dancing the Macarena with an attractive young redhead.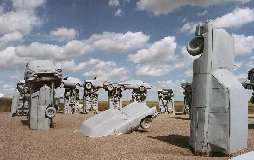 Cult Makes Pilgrimage to Carhenge
Members of a Lincoln cult believed to call themselves the Great Plains Celtic Warriors recently made a pilgrimage to the Nebraska landmark and 114th Wonder of the World, Carhenge, located near Alliance, Nebraska. The group took "musical" instruments and spent hours engaged in their odd, instrumental chanting as hundreds of local residents gawked. "I'd say 900 miles without leaving the State of Nebraska qualifies as a pilgrimage," remarked cult member Larry Dietrich.