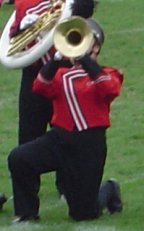 Dietrich Hides Her Face
Boisterous Student Punished
Lincoln High Senior and class cut-up Sallie Dietrich was forced to kneel on the 50-yard line and play a solo for the band's Tropical Dreams field show this fall. Director Terry Rush stated, "Someone like that needs to be where I can keep a close eye on her."
Upon getting news of the embarrassment, relatives Willdra Ruzanski-Baker, Scott Ruzanski, and Vanette Benesch came from three states to taunt her and eat sugary snacks purchased at the concession stand.
A Message from the Editors
Greetings once again, Gentle Readers, and welcome to the fifth (!) annual edition of The Tattler. Many of you are no doubt wondering how many years this publication will survive. So are we.
Yet, year after year, the mail pours in, telling us that we have again outdone ourselves. "I thought I had seen it all last year, but this year's Tattler is even worse!" burbled one enthusiastic fan.
Less seasoned subscribers have thought (hoped) they were receiving a trial subscription, and by writing CANCEL across the page and returning it, they would be spared receiving future editions. No, dear readers, once a Tattlerite, always a Tattlerite!
Speaking of subscriptions, now, for the first time, you can subscribe on line! Why you would want to is a matter for another essay.
And so, we continue, killing trees and mangling grammar as freely as we mangle facts. Your cards and letters are always greatly appreciated, although we opt to not publish them in the Tattler. They tend to not meet our standards for inflammatory content. Nonetheless, we love to hear from you, as you are in our thoughts throughout the year.
The staff wishes all our good readers a joyous holiday season and a wonderful new year.