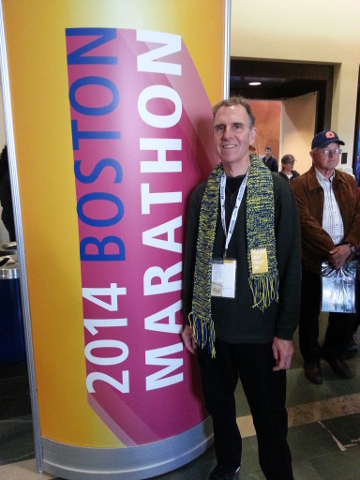 Another Escape Attempt Foiled
Lincoln resident Larry Dietrich reportedly hopped a train and traveled halfway across the country to Boston, MA in an attempt to escape some pursuers he could only describe to Tattler reporters as "Loud. Very, Very, Loud." Dietrich was dismayed upon his arrival to find said family had anticipated his escape and had already arrived at the very hotel where he was staying. "The next morning, I put on my running shoes and tried to sneak out before dawn. I'm a pretty good runner so I thought I could get away from them for good. But when I heard the cowbells after 22 miles, I knew it was all over." Video taken at that location shows wife Wanda Dietrich enthusiastically shaking what Tattler reporters believe to be the Liberty Bell while daughters Elizabeth and Sallie emit shrill screams at passersby. Onlookers were covering their ears and hiding their children.
Dietrich reportedly made it just over 26 miles before collapsing with exhaustion and succumbing to the company of his family. Daughter Elizabeth was asked to comment on the story, but found her voice had finally worn out, and a severe case of cowbell wrist prevented her from typing a response. Daughter Sallie merely held up a sign approximately the size of Rhode Island which read "Run 'til you can't hear my cowbell!" (Larry: "I tried. I really, really tried.") When asked whether he plans to attempt another escape, Dietrich commented: "I don't think I'll try to get away to Boston again. For some reason the road I chose was awfully crowded, I think with other people trying to escape their families. I hear New York is nice in the fall, though."