Tour de Lincoln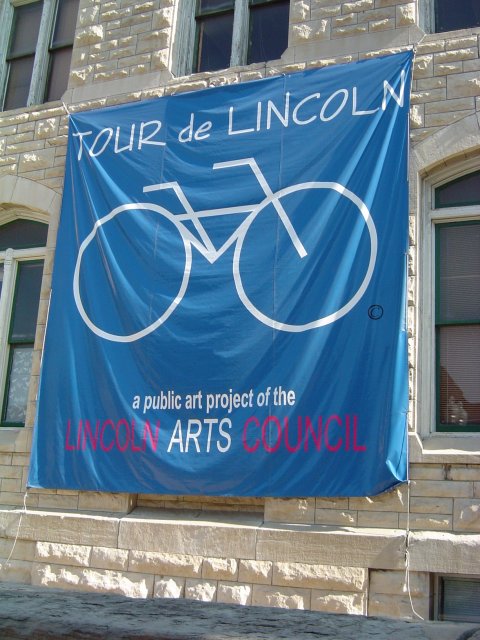 After I saw the first couple of bicycle art objects when they were placed around Lincoln, I found myself bicycling to every piece I could find, so that I could see it and add it to my photographic collection. Some might say it was an obsession.
I imagine the organizers of the project had in mind something like aesthetic enrichment for the community, but they might not have considered cardio-vascular conditioning as one of its benefits. It has been both for me!
The bikes are even cuter/more interesting/more beautiful up close, so I tried to photograph some of the parts you won't see as you're driving by.
There are a whole bunch of photos below. Don't infer anything by the number of pictures of any particular bike. Circumstance as much as anything dictated how many pictures were taken. And, a lack of my comments doesn't mean I don't like the bike; perhaps it speaks for itself. The artists have made comments of their own, by the way. You can read them at ArtScene.org.
You can see my daughter in a few of the photos. Although my other family members weren't afflicted (blessed?) by the obsession that I had, they also have enjoyed them quite a bit.
You can also see my faithful companion, Schwinn, in some of the photos.
I'm a bit sad that the bikes are being removed now. The summer seemed too short. The bikes will be gathered together for a public auction, which is to be held October 3. I'm hoping many of them will be put back on display by their buyers.
My thanks to the artists, to ArtScene.org and the project organizers, and to the sponsors for adding a little joy to my summer, and for helping to make Lincoln the special city that it is! Oh, and thanks, Lincoln, for the trails system!
---
Click on the small image to open a special, larger image window. Then click on the forward or back arrows to see other pictures of each bike.
---
New! You can also view these as a slide show. Take your choice of Sequential or Random
---

1. Popcycle, by James E. Mowitz

2. Some Assembly Required, by James E. Mowitz
I love the tools/spokes.

3. Tour d'Aire, by Susan J. Brasch
Take a look at the ground from high above.

4. Grecian Bicycle Mythology, by Greg Holdren
Alpha and Omega.

5. Balancing the Books, by Judith R. Cherry
Interesting selection of authors!

6. Cycle/Lution, by Scott R. Johnson

7. Color Wheel, by Joyful Stoves

8. Cycle Monument, by Joe M. Ruffo
A friend of mine once proudly wore a hat that had bird droppings printed on it.

9. Stars and Stripes, by Mindy S. Burton
I like the colors.

10. 24 Hrs Diurnal Time (US 20 Nebraska)

11. Butterfly = Pollinating Vehicle, by Gabrielle Moscu
This one takes a bit of study-lots of information here.

12. Crushing, by Shannon J. Hansen
Situated by the Department of Roads.

13. Flat Man Bicycle Band, by Zane and Ethan Parks
One of my favorites. I'm partial to musical themes.

14. Rose Pedal, by Jane E. Stricker
Covered by ceramic roses. This was a victim of vandalism, and had to be re-done. School children helped to re-create the roses.

15. Life Cycles, by Sue Gardner Fenster

16. Bike-a-Saurus, by Marty and Stella Montgomery
You can just tell, this is a friendly Bike-a-Saurus.

17. (T)rail Rider, by Michele J. Tilley & Brad Wilson
On the Mo-Pac.

18. Turbo Boost, Deon Bahr
I consider the road to the airport somewhat bike-hostile. This is one of only two to which I drove instead of bicycled.

19. Crusin, by Mary M. Kolar
Another of my favorites.

20. Dairy Dreamcycle, by Gina A. Egenberger

21. Reflections, by Gina A. Egenberger
Very pretty. The pictures don't do it justice.

22. Put the Metal to the Pedal, by Pamela S. Joutras
I once made a chess set using squares of dissimilar metals. This reminds me of it.

23. Prairie Dog Road Trip, by Kendrik, Helms , Helms & Raddatz
How cute are these little guys! I had to drive to this one, unfortunately.

24. Look Ma, No Hands, by Kendrik, Helms, Helms & Raddatz

25. Around Town, by Karen Story & Judy Stanczyk
I think this is the prettiest one. Very Lincoln.

26. Cents-able Cycle, by Karen Story & Judy Stanczyk

27. No Net, by Troy Guern
His arms sway for balance! Be sure to look at the miniatures.

28. Scwinns for Fins, by Troy Guern
29. Tour de Force, by Gregory J. Laakso
This guy's my buddy. I see him every day. He's friendly, kind of like C-3PO of Star Wars. Sometimes he's riding. Sometimes he's riding backwards.

30. Prairie Petal Pusher, by Sharon Ohmberger

31. Vibes, by Dika Eckersley

32. Sky is the Limit, by Dika Eckersley

33. I Saw the Figure 1 in Yellow, by Leslie Bruning
Lance has made a big impact.

34. Ride of Passage, by Liz Shea-McCoy

35. A Cycle Celebration, by Liz Shea-McCoy
36. On the Trail of Evolution, by Liz Shea-McCoy
Liz's works are joyful!

37. Mosaicycle, by Colleen K. Hake

38. The Original Saltdog, by Todd R. Miller

39. Tour de Lance, by Todd R. Miller
Someone had chalked, "Lance - GO" on the sidewalk beside him.

40. Mountain Bike, by Todd R. Miller

41. In the Good Ol' Summertime, by Todd R. Miller

42. Go Somewhere, by Todd R. Miller
So many of these have a family theme. Reflects something about Lincoln, I'd say.

43. Hitting the Trails, by Sharon Lacy Cech

44. View From Two Wheels, by Jamie R. Burmeister
You can miss the point of this if you don't see it from the right angle.

45. As One, by Jamie R. Burmeister

46. WOOHOO!, by Trudy A. Swanson

47. Mountain Bike, by Max D. Reis Jr.

48. World Traveler, by Matthew Kutscher

49. A Blast from the Past, by Beth R. Turner
Again, a photo doesn't do justice to the fine metalwork.

50. Rusty Trail, by Sinclair Hille Architects

51. Bottle Cap Bike, by Natalie Parker
A lot of school children had a part in this.

52. Tibetan Mountain Bike, by Natalie Parker
This makes three that used the mountain bike theme, in very different ways.

53. Look, by Jeri Brainard

54. Looking for Adventure, by Jeri Brainard
Near the Harley shop.

55. Rest Area, by Danny R. Moore
It took a while to realize that the original bike pattern became the shadow of this tubular bike.

56. Webike / KLKN, by James Cook and Benjamin Vu
This is in the mall. Be sure you look at all seven photos!

57. Marbel-ous, by Deb and Micaela Kubik
I've always liked marbles, too.

58. Winged, by Will Rennick

59. #30 9 and 1, by Ben D. Brunick
Beautiful woodwork. See the artist's explanation of the title at the ArtScene website.

60. The Art of Zen Cycle Maintenance, by Margaret R. Berry
This even had a little wind chime at first. I raked the sand, and one time stopped to fix the chain on my bike at this spot.

61. On a Roll, by Katy L. Dornbos

62. Oops!!, by Robert R. Lamberson
Sallie's comforting the guy.

63. A Family Affair, by Mary J. Lamberson

64. Good Morning Sun, Good Night Moon

65. A Bicycle Built for Tunes, by Corby L. Renard
You know my feelings about the musical bikes.

66. Kaleidospokes, by Douglas B. Daharsh
Spin the wheels!

67. Sidewalk Chalk Talk, by Douglas B. Daharsh
Use the shift levers to make your own designs with chalk. The ultimate in participatory art.

68. Isis in Motion, by William Schaffer
Pretty.

69. Pedal Power, by Lisa A. Lockman
Cute.

70. Summer Lessons, by Catharine S. Honeyman & Richard P. Imig

71. Pedal Me to NE, by Clarisse Hastie
A happy cat.
---
New! You can also view these as a slide show. Take your choice of Sequential or Random
---
Dietrich's Homepage